Our range of Industrial Waste Incinerators are fully CE certified, ensuring that we meet the highest standards in safety and construction.
We have a large range of UK DEFRA / APHA approved units which meet the EU and UK ABPR regulations for incineration of Animal By-Products.
One of the main features of our Waste Incinerator range is that they burn smoke and smell free.
The ease of operation make our units a key benefit on any waste disposal application by avoiding the need for constant supervision.
Burn-rite use the latest technology in the design and build of all their incineration systems.
Waste Incinerator's Key Features
Smoke & smell free
High temperature, refractory lining
High temperature powder coated exterior coating
Excellent heat retention
Very fast heat up times
High burn rates of up to 50kg
Higher rates available.
Easy installation and maintenance.
---
Our approach gives not only exceptional service and value but provides reassurance and professionalism at every stage.
High Quality Batch Loaded Waste Incinerators
Burn-rite offers a wide range of high quality Industrial Waste Incinerators to suit most on-site incineration requirements.
Industrial incinerator
Poultry farms
Sheep farms
Pet cremation
Clinical / Medical / veterinary incinerators
Kennel / Stable waste incinerators
Pig farms
Wood & paper burning incinerators
Confidential Document waste
Heat Recovery Systems
Mobile Incinerators
Waste Incinerators (General Waste)
Animal Incinerators (By-Products DEFRA/AHVLA approved)
Medical Incinerators (Red/Yellow bag Waste)
Why Burn-rite Ltd
Burn-rite's running costs are the lowest in the industry due to the unique design and features of our range of General, Medical and Animal by-product waste incinerators and market leading burners.
Burn-rite is committed to improving our environment and is constantly developing new technologies to reduce emissions and minimise thermal pollution. Our recycling technology works 'hand in hand' with reducing pollution and waste.
Burn-rite's environmentally friendly Industrial Waste Incinerators are constantly evolving and as part of our dedication and commitment we are happy to discuss our techniques and processes with any 'anti-incinerator' or 'no incinerator' groups.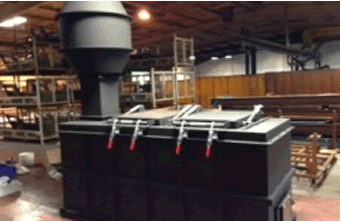 BR G1180 2 Door Waste Incinerator
Our Services
Transport, shipping and documentation
Installation, commissioning and training
Spare parts & service contracts
Customer Service
Burn-rite pride themselves on the highest level of customer support throughout the industry. Burn-rite can deliver your waste incinerator anywhere in the world.
24/7 Technical Helpline
Burn-rite offer a 24/7 Technical Helpline that ensures that your incinerator is returned to operation in the shortest time possible in the unlikely event of a breakdown.